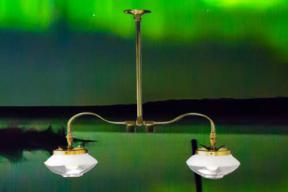 Price: $425.00
Sale: $399.00
You Save: $26.00 (6%)


Highlights:
Ideal For Your Cottage, Weekend Home, Off-The- grid Dwelling Or Where Ever Electrical Power Is Not Available. Only Propane Gas Is Needed For Operation.

Falks Propane Lights Were Designed For Home, Cottage, Cabins, Trailers, Boats or Wherever lighting Is Required, For Everyday, Decorative or Emergency use. Falks Gas Lights Have Proven to be Efficient and Dependable for Decades. Falks' Graceful Curve propane Light Design of Solid Polished Brass Highlights the Quiet Elegance of Old World Styling as Well as Providing a Lifelong Attractive Finish.